Chelsia's Story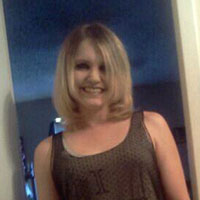 "SDC opened doors for me, and built me up to walk through those doors."
Divorced, separated from her children, and nearly homeless, Chelsia's life was breaking down at the age of 39. She had little hope or direction when she entered the Texas Self-Directed Care Program (SDC) one-and-a-half years ago. A magnificent transformation has take place since that time. Here is her story. 
Chelsia shares that mental illness and drug addiction have always been a part of her family's life. Both her mother and sister had bipolar disorder, leading her sister to commit suicide. Chelsia believes that she too had symptoms of bipolar illness from a young age. When she was 14 years old, her mother began giving her alcohol and pills to deal with life stressors. At the age of 15, her stepmother introduced her to cocaine. Looking back, Chelsia feels she never learned coping skills to effectively manage her emotions. Instead, she was taught to drown out problems and pain with alcohol and drugs. As a result, she went in and out of drug treatment for years because she found it difficult to follow program rules and manage her emotions. It was not until 2008 that she was diagnosed with bipolar disorder and began to understand the effects of the illness on her life.
In 2009, while at a drug treatment center, Chelsia first met the SDC staff person who would help her, called an SDC Advisor. The very day that Chelsia left the treatment center, her boyfriend overdosed and died in her bathroom. With her resiliency starting to emerge, she did not relapse into substance abuse while dealing with this tragic event, but instead returned to the treatment center for refuge and support. Upon discharge, she set a recovery goal to begin seeing a mental health therapist to learn coping skills. Chelsia paid for this treatment using funds from her personalized SDC budget.

Over the next couple of months, Chelsia worked with her SDC Advisor to continue developing her recovery goals. One major goal was to return to school to become a Licensed Chemical Dependency Counselor. Through the SDC program, she was linked directly to the Texas Department of Assistive and Rehabilitative Services (DARS) to help her obtain the resources to accomplish this dream. Chelsia was due to start classes at Eastfield College with DARS funding in August, 2010. The week before, she called her SDC Advisor upset upon learning that DARS was unable to fund her education due to problems with the paperwork required to establish her eligibility for tuition payment. Chelsia's SDC Advisor encouraged her to contact a DARS supervisor, explain the situation, and advocate for herself. After speaking with the supervisor, her case was reevaluated and she was given funding for one semester with the provision that she had to keep her grades up to receive funding for a second semester. When DARS was unable to cover the cost of a computer and school supplies, Chelsia used her SDC budget to purchase a computer and other educational necessities to support her recovery goal.
Chelsia excelled in her academic work. When the college invited her to join an honor society, she paid for the membership fee using her SDC budget. In May 2011, she graduated with honors from Eastfield College and is now seeking employment as a Licensed Chemical Dependency Counselor Intern. Chelsia's family life has also greatly improved. Relationships with her relatives that had eroded due to her substance abuse have been restored. She is now actively involved in all facets of her children's lives. The fact that they can depend on her makes her feel good about herself. In spite of her mother's death in 2010, she continues to make progress with her recovery. Chelsia has utilized her resources to persevere in the face of stress and loss.
Chelsia says that two years ago she would never have imagined her life being so good. She believes that the SDC program has taught her how to set goals and reach them. SDC supported her in accomplishing her dreams, opened doors for her, and built her up to walk through those doors. She reports feeling more independent and self-sufficient. With her dignity restored, Chelsia enjoys her new life and is optimistic about her future.