Cleveland's Story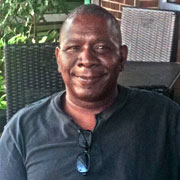 "SDC is my backbone of support."
Cleveland joined the Texas Self-Directed Care (SDC) Program in May 2010. Along with his emotional challenges, he was dealing with a number of health difficulties including congestive heart failure. Living in an area with few community resources, he felt isolated due to anxiety about his physical safety and lack of public transportation. "I didn't want to come outside. Didn't feel like being around people," he explains. Cleveland's initial goal was to move to an apartment complex with more residents his same age. He was also interested in going back to work and joining a community program with activities for elders. While he wanted to rejoin the workforce, his problems with anxiety deterred him from moving forward. Once he started the evaluation process with the Texas Department of Assistive and Rehabilitative Services (DARS) to obtain employment services, he realized he was not ready to return to work due to his anxiety issues and lack of transportation.
Over the course of the first three months in SDC, Cleveland set recovery goals to improve his living situation and social support. He budgeted for personal necessities such as toiletries and cell phone assistance. After that, one of his most important goals was to learn how to use a computer for vocational and personal advancement. The SDC program's connection with a computer retailer enabled him to get a good deal on a refurbished model. But learning to use the computer was a challenge. His SDC Advisor helped him locate a computer class at a public library within walking distance of his home. After attending this class, he began using his computer to improve his life. One of his first accomplishments was applying to retrieve his driver's license. Next, he went online to look for a used car and, after a long and careful search, he successfully purchased a used Honda. "It's a 2001, but it seems brand-new to me," he relates proudly. Having a car allows him to meet his goals of regularly attending his medical and mental health appointments and socializing with his family.
Cleveland says his participation in SDC has helped him to be more at peace with himself. "I still have stress from time to time. But now I try to get to the good part of life," he explains. Initially, he did not fully grasp the primary role that he plays in his own recovery. But with encouragement from his SDC Advisor, he has taken over his budgeting and has greater confidence in his own abilities. As he explains, "Making a recovery plan and budget showed me what I might try to do with my life." Cleveland's goals grew to include taking care of his physical health. After joining a gym and signing up with a personal trainer, he now does exercises for his back and walks several times a week.
Recently, Cleveland has expressed interest in returning to work and is using his computer to search for job opportunities. He has been completing applications online, and is interested in working as a school crossing guard. He also wants to find a better apartment because, "I'd feel good having a nicer place to live." He is proud of moving beyond his difficulties toward a healthier and more productive life with the help of SDC. He notes, "I wouldn't be here today if it wasn't for SDC. I learned things to do for myself and I feel like I'm really living now."