Genoveva's Story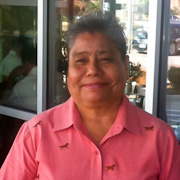 "Being in the SDC Program has given me a new start in life."
When she joined the Texas Self-Directed Care Program two years ago, Genoveva was separated from her husband and didn't have friends she could rely on for practical help or emotional support. She had difficulty trusting people and felt hopeless. She had been through some rough times, including a suicide attempt. Even though she worked at Catholic Charities of Dallas in return for their help with housing, she was isolated and seldom left her home except to go to her job.
Upon joining the Program, Genoveva worked with her SDC Advisor to set goals of being more independent and improving her mental health. She had experienced abuse in the past, and wanted trauma recovery treatment as part of her mental health service plan. One of the first things she included in her individual budget was funding for a trauma-informed therapist. She wanted to find a bilingual clinician who was familiar with community resources. The therapist she hired works at a victim intervention program and makes home visits, which is ideal for Genoveva.
Genoveva had always dreamed of becoming a seamstress. In talking with her SDC Advisor, she gradually realized that she wanted to start a small business. This led to her setting a microenterprise goal as part of her recovery. Currently, she is working with Catholic Charities and the Greater Dallas Indo-American Chamber of Commerce to develop a business plan for her enterprise. In the meantime, she used her SDC budget to buy shelves and create a work station in her home, and has been promoting her crafts and sewing skills in a variety of ways. For example, she sews pillows, blankets, stuffed animals, doilies, and centerpieces for special events in her city, and exhibited her work at a craft show. She also displays her work at SDC Learning Community meetings and gives other participants sewing lessons. Recently, Catholic Charities agreed to consider donating space to help Genoveva expand her business.
As part of her employment goal, Genoveva budgeted for the purchase of a laptop. The Indo-American Chamber of Commerce is working with her to create a web site to market her products. Once she gets enough business from the web site, she plans to hire other SDC participants to help her fill the orders. Owning a laptop and running a business is a big step for Genoveva, especially since she has little computer experience. However, she realizes that Internet technology is an important way to grow a small business.
Being a member of the SDC Program has helped Genoveva feel part of a community of people who've had similar experiences and understand where she's coming from. She also has grown from giving and receiving peer support. Because she loves to cook, she often volunteers to bring food to SDC participant meetings, and says it makes her feel proud to share something with others. Being in the SDC program has helped her make a new start in life. She notes that, "Anything is possible as long as I take care of myself physically and mentally." She values having the freedom to make her own choices and decide what is best for her. Since she never had this opportunity before, she is determined to make the most of it.