Guiseppe's Story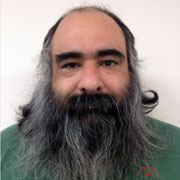 "SDC was much more personal than services I received before."
Before entering the Texas Self-Directed Care (SDC) program, Guiseppe had been dealing with a number of health and mental health issues for about a decade. He broke his neck in a serious automobile accident and, while recovering from his injuries, his grandmother died, followed by the death of his beloved dog. Then his home was robbed and he started to hear voices. He was hospitalized for four months and during that time his home was robbed again. He lost all of his possessions, including his artwork and everything from his childhood. When he was released from the hospital, he was unable to work and had to sell his home. Since then, he had been learning to live within his means and adjusting to his new circumstances. Luckily, he had support from his mother and her husband who helped him get through that difficult time.
Guiseppe had been receiving services from the public mental health system for eight years when he learned about the SDC program from a friend who said it was a good opportunity. Upon joining the program, his SDC Advisor helped him set recovery goals through a person-centered planning process, and then worked with him to figure out a budget for pursuing those goals.
Guiseppe relates, "At the time I joined the program, I had just moved into a new apartment and was unable to get the electricity turned on because I needed a large utility deposit. When I contacted my Advisor, he got back to me right away and let me know I could use my personal budget for this expense." Guiseppe also set a goal of improving his physical health. One of the first things he planned was to try massage therapy to see if it was helpful in relieving back pain and improving his flexibility. "I had never had that before, and it felt great," he shares. He also budgeted for a gym membership and new athletic shoes which helped him start exercising. He followed that with swimming and weightlifting, eventually losing 20 pounds.
Another goal Guiseppe pursued in the SDC program was to begin creating art again. He used his individual budget to purchase art supplies. "I found I started to express myself with my painting in ways that I had not been able to do before," he explains. Guiseppe has been painting with acrylic and oil, and sculpting with metal and clay. He has taken some art classes and learned a lot of new techniques on his own. Another important goal that Guiseppe accomplished was to begin receiving hospital-based healthcare assistance. Guiseppe relates, "My Advisor took me to the hospital and waited all day with me and helped me get signed up." This program allows participants to pay minimal amounts for doctor visits and prescriptions, providing Guiseppe with medical treatment he was unable to access before.
When asked to reflect on how his life has changed, Guiseppe explains that the SDC program helped him figure out what he wanted to be doing in his life and helped him reconnect with creative parts of himself that promote his recovery. He notes, "Being part of the SDC program, I got to work with a wonderful group of people and they helped me through some hard times. This program was much more personal than services I received before. I built relationships with people who really wanted to work with me."